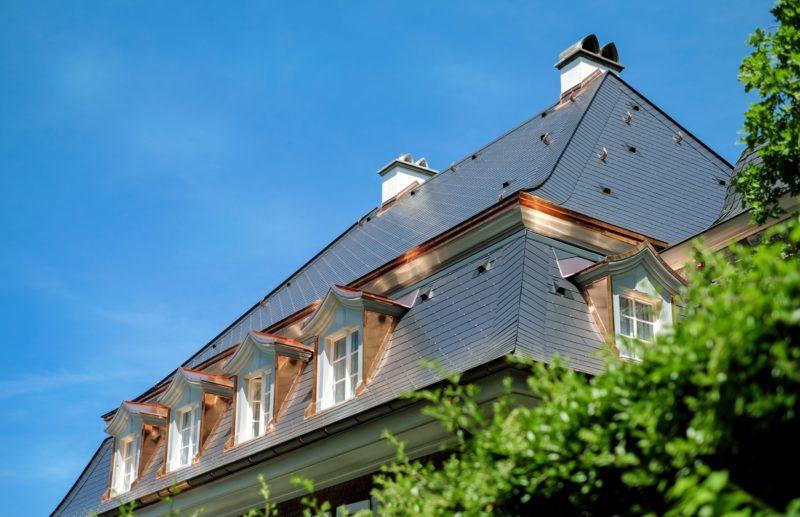 Metal roofs can give your home a sleek and almost futuristic appeal. But, are all metal roofs made equal? Of, course not. In fact, when considering a metal roof, many homeowners are turning to copper as their metal of choice. Going from a traditional asphalt roof to a metal roof can be a large upgrade and take some getting use to. So, before you consider installing a new copper roof, review these important pros and cons.
Pro #1: The Noise
It is a common myth that like most metal roofs, a copper roof will be very noise during a rain or thunderstorm. This is simply untrue. Copper is one of the softest metal roofing materials and when hit by rain will not amplify the sound any more than a traditional asphalt shingled roof. In fact, with the underlayments, the sound should be completely muted.
Pro #2: Expansion
Copper roofs do not expand and contract as much as other metal roofs. This is where the design and installation of your copper roof are essential. Using an expert and licensed metal roofing contractor can ensure that the roof elements are installed properly and will not undergo extensive contracting and expanding when the weather changes.
Pro #3: Recycling
Copper roofs are often made from recycled copper. As one of the most environmentally-friendly roofing materials, copper roofs are not designed to end up in a landfill. They are usually expertly crafted from recycled copper pieces and are engineered to stand the test of time.
Pro #4: Beauty
Copper roofs are some of the most attractive roofing options on the market. If you want a way to instantly boost your home's curb appeal and provide a long lasting durable, waterproof seal on your home, then install a copper roof. They have grown in popularity over the past decade because of their sleek and seemingly impenetrable design.
Con #1: Expense
Copper roofs have great benefits but are one of the costliest types of roofs to get. If you are offered a copper roof that is priced at or below the cost of a traditional roof, beware! This is not to say that residential roof replacement companies cannot offer promotions, but a high-quality copper roof is an investment, and you don't want to pay for shoddy materials to protect your home. The choice as to what type of roof you install is yours to make. If you would like a thorough roof inspection or want to sit down to discuss your roofing options with a trusted and experienced residential roofing specialist, then give Best Choice Roofing a call today at 1-888-272-4011.