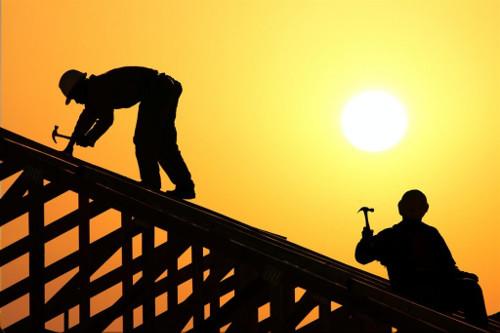 When you have roof damage, you need a roofing contractor who does high-quality work at an affordable price. Roof replacement is one of the biggest investments you can make in your home, so the work needs to be done right the first time. If you are in need of roof replacement, look for the following while searching for residential roofing contractors in your area.
1. Required Licenses Almost all states require residential roofing contractors to have some type of license. Before hiring a contractor, make sure the company has a valid license in good standing. Verify the information by checking with the licensing agency for your state or county. If the contractor has any complaints on record, make sure those complaints have been resolved in a satisfactory manner.
2. Insurance Coverage Residential roofing contractors should carry two types of insurance coverage: workers' compensation insurance and liability insurance. If one of the contractor's employees is injured while working on your property, workers' compensation insurance covers the employee's medical expenses. Some contractors do not purchase the required insurance because it is expensive and they feel it is better to take their chances. If your contractor does not have workers' compensation insurance, you may be responsible for paying for any injuries that occur on your property. Liability insurance covers damage to your property. It is important to hire a contractor with liability insurance in case something happens to your home during the roof replacement process. If a contractor says he has liability insurance, ask to see the insurance certificate to verify that the coverage is current.
3. Established History Look for residential roofing contractors that have a history of doing excellent work in your area. Avoid hiring a contractor that has only been in business for a few months, as it is difficult to determine if a new roofing contractor has the skills and experience necessary to replace your roof properly.
4. ReferencesAn experienced roofer should be able to provide references from past clients. If you contact one of these clients, ask some of the following questions to determine if the contractor is right for your roofing project:
Are they satisfied with the work performed by the contractor?
Did the contractor complete the work on time?
Did the contractor go over budget when doing a roof replacement?
Did the roofers show up on time for work each day?
Was it easy to work with the contractor?
Were there any problems with the contractor?
You should also ask the contractor to provide pictures of past projects. Although some roof problems are not immediately visible, you should be able to tell if the contractor did a good job on each roof replacement.
5. Communication Skills Make sure it is easy to communicate with the contractor. Roofers should be willing to answer your questions and provide the information you need to make an informed decision about your roof replacement.
6. Enthusiasm for the Work You don't want to work with a roofing contractor who does not really want to do your roofing job. When you talk to roofing contractors, listen to how they talk about past projects. Do they sound enthusiastic about picking out roofing materials and doing roof replacement work? If not, you may want to pick a contractor who is more enthusiastic about roofing.
7. Trained Employees or Subcontractors Ask the residential roofing contractor if his employees or subcontractors have the training they need to do high-quality work. A lack of training increases the risk of injuries and makes it more likely that your replacement roof will fail prematurely. The contractor you choose should have skilled employees or subcontractors available to do all of the work on your roof.
8. Written ContractNo matter how much you like a contractor, don't start your roofing project without getting a written contract. A contract protects both parties and reduces the financial risk of making such a big investment. Your contract should cover the following:
Full name and contact information for the contractor
Complete description of the work to be performed
Price breakdown for materials and labor
Work schedule
9. Positive Reputation Talk with residential roofing contractors who have a positive reputation in your community. If none of your friends or family members can give you a personal referral, read online review or check with the Better Business Bureau to make sure the company has a good reputation.
10. Work Plan Before a contractor does any work on your roof, ask for a work plan. This plan lists all the materials to be used for your roof replacement, the anticipated start date of the project, the estimated completion date, and other details about your roofing project.
Best Choice Roofing has experienced roofing contractors available to replace your roof. When you hire us, you'll know exactly how much your roof is going to cost. We'll also work quickly without sacrificing quality, giving you a sturdy roof that stands up to wind, rain, hail, and snow. If you think your roof is damaged, call Best Choice Roofing at 1-844-228-5001 to schedule a free roof damage inspection.